Vegan Chocolate Chip Cookies from Makarona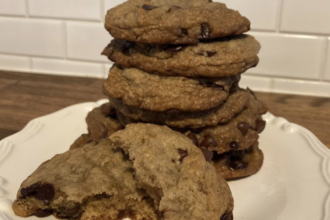 Ingredients
1/2c coconut oil (loose but not melted)
1 & 1/4c light brown sugar
2 tsp alcohol free vanilla extract
1/4 c cashew, oat, or coconut milk
1/4 c unsweetened applesauce
2 & 1/3 c all purpose flour
1 tsp baking soda
1/2 tsp salt
1 c dark chocolate chips
1 c semi sweet chocolate chips
Baking Instructions
Preheat oven 375 degrees Fahrenheit.
Combine coconut oil + sugar + vanilla extract. Then mix in plant milk + applesauce. In a separate bowl whisk  flour + baking soda + salt.
Combine wet + dry ingredients. Fold in chocolate chips.
Line baking tray with parchment paper
Scoop dough into piles approximately 3 tbsp in size + place on baking sheet.
Bake for 10-11 mins. Transfer cookies to cooling rack.