Come see what's FRESH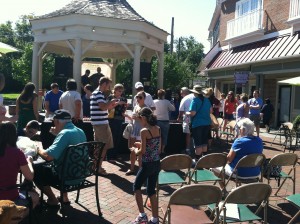 Check here each week to see what's new at the market!
June 8- Camille Peruto will be performing at the gazebo.
"Blending elements of folk, pop, and rock, Singer-Songwriter Camille Peruto creates music that captivates and mesmerizes her audiences. The talented songstress imbues her music with her fiery spirit; add in the charming and bare-it-all acoustics and you are presented with an unforgettable performance."
The
Haddonfield Public Library
will be at the market this Saturday to help launch the summer reading program. Kids' crafts to go with a "space theme", too
Be sure to look for Haddonfield Farmers Market tents at the June 13 food and music festival,
Haddonfield Night Market/Rotary concert from 4-8pm!
Friends of the Haddonfield Farmer's Market Dinner Saturday, June 8 – 6-9 p.m is all sold out! Be sure to look for the next Market Dinner!
This exclusive four-course food and wine al fresco event held in Kings Court benefits the Haddonfield Farmers' Market.
Entertainment Line Up for next weeks:
June 15-Every Heard
June 22-Jeremiah Scotten
June 29-Dave Kelly
Haddonfield Farmers Market spotlighted in The Hudson Kitchen!
Read this great interview with our market manager, Ralph Ciallella.