A Perfect August Day
In the Market
August 26, 2018
by Robin Fendya
I'm really only here for the food
You couldn't have asked for a more beautiful day at the Market! The sun was shining, both the temperature and the humidity were moderate, and a light breeze was ruffling our vendor's tents and banners. It seemed like half of my neighborhood was there, enjoying the atmosphere, the camaraderie, and of course, the bounty of the season.
After I indulged in my weekly bacon fix, I decided to visit a few of the non-food displays, and stock up on some home and body care essentials. First stop, farmers market favorite, Just No3. to grab another bottle of their great smelling and DEET free plant based insect repellent. This stuff really works and my bottle from two years ago is finally running low. I prefer the spray, but Kim also makes it in a cream, which is easy to take along while traveling. It's a necessity for my early morning walks, that keeps the mosquitos and other biting buggers away!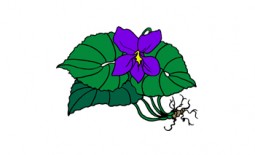 I also swung by my friends, Ann and John Picking's booth (of Haddonfield's own Wild Violet Natural specialties), to check out their latest selection of Mexican blankets. They are handmade, full of vibrant color and are perfect for yoga, the beach, as a wall hanging, or just for a chilly lap. Wild Violet is also my go-to source for local raw honey, both from Fruitwood Orchards, and from a relative newcomer, My Brother's Honey, produced by bees in hives right here in Haddonfield. It doesn't get more local than that!
Next, my eyes were dazzled by the rainbow of hues at Other Avenues tent. Owner Neil Harden's small batch, handcrafted soaps and bath bombs come in every color and scent combination imaginable. Made with quality ingredients to clean, moisturize, and lightly scent your skin, these delights are sure to please your senses! He also offers lip balms, sugar scrubs and activated charcoal products for trickier skin issues. I bought several of his products for personal use and to give as gifts.
Then it was time to do my weekly produce shopping at our various farmer's stands. I love building relationships with the hard working people who grow and nurture the food I eat. Everything looked so beautiful and at the peak of flavor, that as usual, I purchased more than enough to keep me in healthy and delicious meals for at least a week.
My last stop before heading home, was at an intriguing display of locally made hot sauces. Alex, from Boss' Saucery, concocts nine flavorful varieties of mainly locally sourced hot sauces, at all levels of the heat scale. I went with his bestselling aru-aru sauce with red pepper, arrowroot, avocado oil, roasted peppers and garlic. Light on spiciness but full of flavor. Sure to be put in heavy rotation at my house! Included in his line up are three whose profits all go to charity. One of these is the goulish sounding bogs blood, made with Jersey cranberries, raw unfiltered honey and ripened red habaneros. This is definitely going to be my next purchase from him, just in time for the beginning of Fall.
See you next Saturday at the market. Even though it's Labor Day weekend we'll be there, so stop by for some fixings for your holiday cookouts and celebrations!