2021 Vendor Features: Muth Farm Flowers
It all began on a farm. 
Mary Ellen Muth grew up on a farm in Williamstown, NJ. In time, she moved away, but wherever she lived, she always had a garden filled with flowers. The idea of a business involving flowers fell into place when she shifted gears from a nursing career and moved back to Williamstown. Her brother, who managed the family farm, agreed to plow up a plot to let her see what she could do, and it turns out she could do a lot!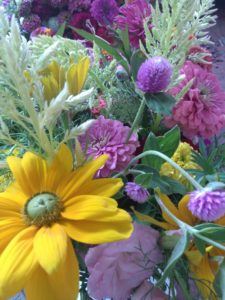 The business began with a few local florists as clients and in 2008, Muth Farm Flowers officially launched. Mary Ellen began to share her bounty of blooms with the general public in the early days of the Haddonfield Farmers' Market and has been a regular vendor ever since. In addition to Saturdays at the Haddonfield Farmers' Market, you can find Muth Farm Flowers at the Sea Isle City Farmers Market every Tuesday morning from June 22 through September 7 at Excursion Park. 
Mary Ellen reports that Muth Farm Flowers is just right for one person, and she loves the seasonality and cyclical nature of cultivating cutting flowers. She preps for market and commercial florists on Monday, sells to the public in Sea Isle City on Tuesday, services florists on Wednesday and Thursday, preps for market again on Friday and offers her flowers to the Haddonfield Farmers' Market community on Saturday; Sunday is a day of rest. 
After the holiday wreaths and swags were done, winter used to be down time, but flower farming is a year-round job. Every winter for the past 20 years Mary Ellen has removed invasive plants in their dormancy. Because she farms and maintains her own place organically, herbicides are not an option, so weed and invasive plant removal is essential, plus pollinator protection is a passion for Mary Ellen. Flower farming begins by digging up 800 or so dahlia tubers and starting seeds in January, tending the starts in February and producing an early spring crop exclusively for florists. Some crops such as sunflowers are "one and done" while others continue to produce through the season. The flowers you enjoy at the Market today were started in February!
Mary Ellen loves introducing folks to the seasonality of flowers, engaging with them on what she has and why each flower is brought to the market at the peak of its season. Much like children, they are all her favorites, and she brings only the finest bloom to market. 
Delighted to return to The Haddonfield Farmers' Market Kings Court location, Mary Ellen absolutely loves the live music, and is so happy to see her customers again and know they are well. She enjoys the cycle of life in her business too, helping young ladies select flowers for engagement parties, then weddings and to celebrate new babies. Flower farming, like life, is cyclical and special.